Classical, Acoustic & Electric Guitar Tuition
Rik Roberts offers expert Classical, Acoustic & Electric Guitar Tuition to all ages in Hazel Grove. All levels welcome from complete beginner to diploma/conservatoire standard and beyond.
Styles Offered:
Acoustic Blues, Jazz, Folk, Country, Popular, Contemporary, Traditional Fingerstyle, Percussive Style, Frailing, Strumming 
Electric Blues, Jazz or Rock  
Live online lessons are a great option wherever you are. 
Rik Roberts is a Concert Classical Guitarist who mixes the other aforementioned styles in his performances. He is also a Steel-String Acoustic Guitarist on the local folk scene. His Rock 'n Roll days may be behind him performance-wise, but he still has the chops on electric guitar!
Students can expect to receive the very best guitar instruction, tailor-made to meet personal needs and goals. Holding a 100% pass rate with both ABRSM and Trinity graded exams makes him one of the most highly-regarded guitar teachers in the Stockport / East Cheshire area.
Payment can be made lesson by lesson or in blocks of 5 or 10.
Adults and Children of all ages most welcome. Daytime and evening slots available.
'Rik teaches a whole range of techniques and styles in a relaxed, cheerful and professional manner. It's always fun if challenging. In addition, his musicianship is superb; it is impossible not to be inspired!'  Derek Altoft.

£18 for 30 minutes
£24 for 40 minutes
£36 for 60 minutes
Is it time to move forward with guitar? Get in touch today to start your tuition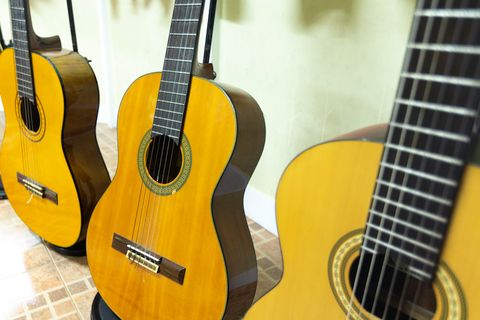 BMUS (Hons), PGCE
Qualified Teacher Status in England and Wales
Full DBS check
28 Years Experience