Classical Guitar Lessons with Rik Roberts
Rik Roberts offers specialist classical guitar tuition to all ages and abilities. Whether it's children or adults, absolute beginners or conservatoire level players, he has nearly 30 years of experience in making this style of guitar accessible to all learners. 
Beginners benefit from his patient and easy-going approach, whilst ensuring good technique and an appreciation of musicianship is instilled into their learning and playing from the start.
Intermediate and advanced players benefit from his on-going experience as a concert performer and his up-to-date knowledge of classical guitar pedagogy and technique.
Rik believes that technique should never be separated from music and is an end to the music you wish to play.
He also has a strong focus on finding ways of adapting text-book technique to the student's fingers if necessary - we all have different hands!
There is always a focus on student-autonomy and encouraging learners to correct themselves and trouble-shoot their own playing in-between lessons.
Finally, he wishes to pass on his own passion for the classical guitar by encouraging all learners to explore the instrument outside of the lessons by listening, watching videos/documentaries and attending concerts.
He holds a 100% pass rate in both Trinity & ABRSM exams throughout his teaching career.
Lessons can be at his home in Hazel Grove, Stockport, in your home via his mobile teaching service or online via Skype.
Lesson Rates (Hazel Grove or Online):
£18 for 30 minutes
£24 for 40 minutes
£36 for 60 minutes
Mobile Lessons:
£38 for 60 minutes
A minimum of one hour is required for mobile bookings, lessons can be regular or occasional. He travels within a 10 mile radius of Hazel Grove.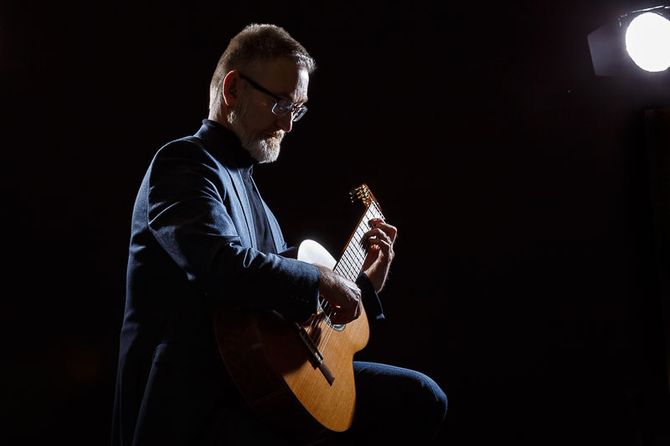 Performing 'Cavatina' (Stanley Myres) with the Epiphany Chamber Orchestra in 2019.
Something much less formal, his Bluegrass Finale to his show at the Goostrey Festival in October 2019.